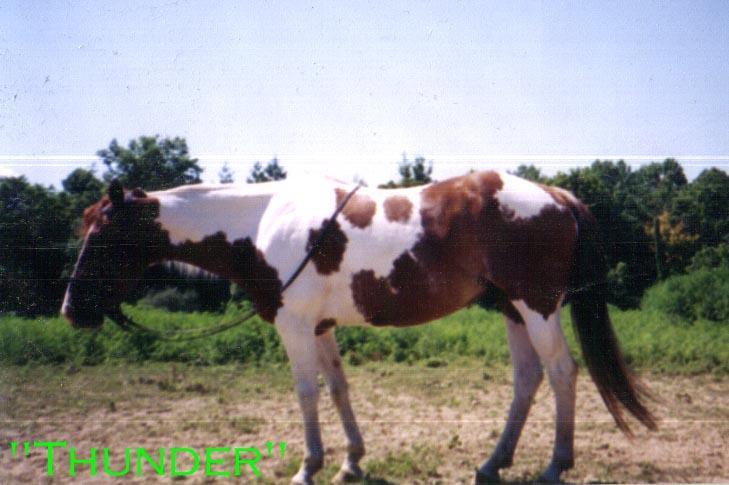 Thunder was my very first Pony, and he has taught me everything i know about riding. I first saw him in the pastures of a new neighbor and being the horse crazy gurl that i am i was quickly finding ways to ride down teh riad and stand at the end of the pasture calling to him and his pasture mates and giving them carrots. I would go down everyday after school and stand, just watching him be a horse... i fell in love.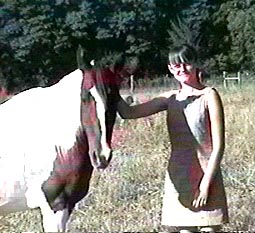 i was extremely nervous about asking the neighbors for the first time if i could actually go into the pastures and pet him. they were out working in the barn and up i trotted with a bag full of carrots. i asked, and they welcomed me to seeing the horses. i was so happy, for a gurl who had just moved from the city - but had always been horse crazy -this was a dream come true.

Thunder was pastured with three other horses at that time; a Belgain mare named Rose, an Appaloosa gelding named Hank and a Zedonk (zebra/donkey cross) named Zepher. Thunder was showing his true self that first day and was not apprehensive at all about coming to be fed. When i first got a chance to pet his velvety muzzle i was so head over heels that from that day on i would always be involved in the life of this plucky little pony.... and his owners....lol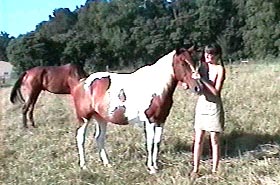 I worked for quite a while with Thunder on his ground manners, and spent endless hours just grooming him or simply watching him graze out in pasture. By this time everyone knew that if i wasnt home when they got home i was at the farm, and its where i wanted to be 24/7!! I soon grew to have a good relationship with Thunder's owner and to this day i dont think they ever expected to have me stick around, but i am so grateful everytime i look at that beautiful horse in the pasture that they were willing to put up with a little horse crazy gurl.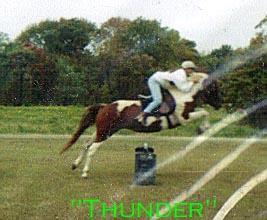 After a while i was feeling a little braver, and one day i got up the notion that i was going to ride that horse. I can remember EVERYTHING about that first ride...
I walked Thunder into the round pen, i had no saddle or bridle... just a lead rope, halter and a saddle blanket. i did not tie the lead like reins, i didnt exactly know how this was going to go.. but i threw that blanket apon his back, walked him next to the pannels, and soon i was up on that strong back of his. I felt like that day i was really something special, but now that i look back it was all about Thunder... he was the awesome one. I asked him for a walk and obediently he walked slowly in a million circles around that round pen.... then i got brave.... i asked for a trot and i received whatever i wished.... but all good things must come to an end, and soon i saw my father's black truck pull into the driveway and i had to go.... i was already late to go somewhere and now i was covered in horse hair...lol.... but i was on cloud nine all day.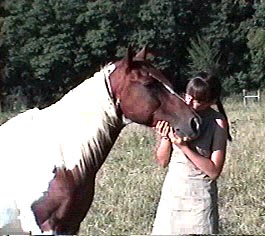 From that day i continued working with Thunder, and although there were many hard and difficult days i wouldnt trade those experiences for anything in the world. with every good response Thunder gave me i learned something, yet with every fall i learned even more.

Years later i know own Thunder.... that great man who gave me my first chance with this wonderful horse actually gave me my first love last Laybor Day weekend. it was fantastic and truly the happiest moment of my life. Thunder resides in my pasture, and enjoys all the attention he gets as the only horse. His jumping talent is absolutely mind boggling... he loves his job and he likes doing it correctly. He is my best friend, and together we have trekked miles and miles through this area's woods and roads.

I owe everything to Thunder.... and I hope that someday i can repay him for everything he has given me.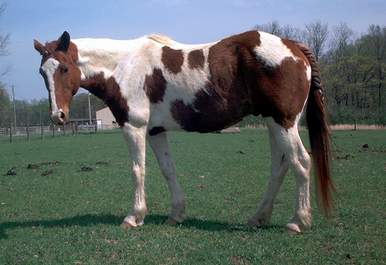 Thunder on 4/18/02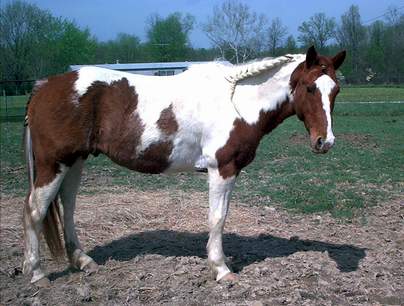 Thunder on 04/18/02